Baby Jasmine by Waltraud Hanl
Baby Jasmine lifelike doll is the first African American doll created by master artist Waltraud Hanl, exclusively for the Ashton Drake Galleries.
Jasmine's World of Wonder
Gaze into sweet baby Jasmine's deep, dark eyes as she looks out in a new world. This
World of Wonder Collection
celebrates baby Jasmine in her first year of life.
Jasmine Goes to Grandmas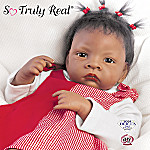 Dressed in an adorable red and white check jumper, baby Jasmine is all ready to go to Grandma's house. Winner of the Dolls Award of Excellence, this beautifully handcrafted Jasmine lifelike doll is designed to lie in your arms just like a real baby...more
Jasmine at age 1 1/2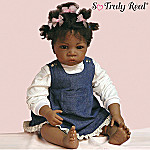 Look who's growing up! Baby Jasmine is 1 1/2, wearing a pullover and denim jumper. Her curly hair is colorful with a bright array of ribbons and scrunchies...more
Pretty in Pink Jasmine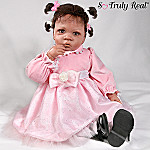 Somebody's all dressed up for the holidays! Baby Jasmine's dress is made of fine velvet, satin, and lace. Her adorable little feet are graced with black patent leather Mary Janes....more
Tiny Miracles Jasmine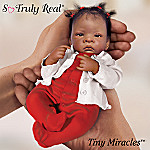 It's sweet baby Jasmine in a miniature size. Dressed in a cozy red footed sleeper and white baby sweater, she's the first So Truly Real collectible African-American baby girl doll to be created in an amazing 10-inch size...more
Tiny Miracles Infant Jasmine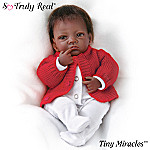 Jasmine in an adorable 10" size is back, this time with a white footed sleeper and red sweater...more