Breathing Baby Dolls
There's nothing more endearing than having a newborn rest against your chest and feeling the gentle rise and fall of the baby's breathing. We're very proud of our reborn dolls that actually breathe! They're so lifelike, you'll be afraid to wake them.
Every Moment is Precious Collection
Every precious doll in this collection is designed to feel like a real baby; she coos, breathes, and has a heartbeat.
Katie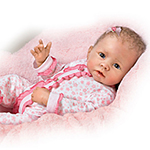 This sweet girl comes in an adorable pink ruffled floral sleeper adorned with rosebud buttons and a flowered bow in her hair. ...more
Sadie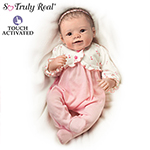 This adorable baby is fully poseable and breathes, coos, and has a heartbeat. She arrives in a pretty pink footed sleeper and ruffled jacket bodice ...more
Loving Lullabies Collection
There's nothing sweeter than a sleeping baby! This collection of exquisite "breathing" baby dolls is available exclusively from The Ashton-Drake Galleries.
So Truly Real Every Little Breath's a Blessing Collection
Each of the sweet baby dolls in this collection was created exclusively for The Ashton-Drake Galleries by Master Doll Artist Andrea Arcello.
All three breathing baby dolls in this collection—Ashley, Maggie, & Aria—will melt your heart with their sweet newborn features and their gentle breathing—so peaceful to watch, so wondrous to feel—tells you that they're truly content to be loved by you. Pick them up - they feel just like real babies in your arms! Truly, every breath is a little blessing, but don't wait! Strong demand is expected for these breathing baby dolls.