Lifelike Dolls by Linda Webb
Master doll artist Linda Webb is best-known for her infant dolls. Her desire to create lifelike infants can be traced back to the birth of her son and her desire capture the magic of his birth in her heart. Her work has won her the Dolls Award of Excellence sponsored by Doll Magazine, the DOTY award sponsored by Doll Reader Magazine, and the NALED Doll of the Year.
Warm to the Touch Doll
Linda Webb has done it again. This lifelike, realistic little girl is actually warm to the touch! She comes with a 'warming heart' heat pack to beccome a warm little bundle, snuggled contently ...more
Welcome Home—Linda Webb 25th Anniversary Doll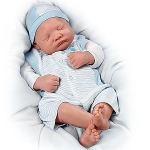 This charming little boy marks Ashton Drake Gallery's 25th anniversary. He slumbers in a 3-piece sleeper with a coordinating, satin-trimmed blanket. He even wears a tiny diaper ...more
Ashlyn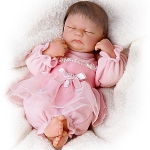 This beautiful sleeping baby has painted fingernails and toenails. She slumbers in a beautiful pink ensemble, and even wears a tiny diaper ...more
10 Inch Emmy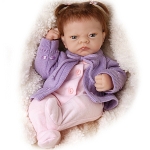 Linda Webb's darling Emmy is now in an adorable 10 inch size, dressed in a sweet pink footed sleeper and purple sweater ...more
Emma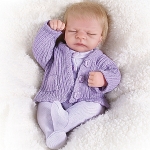 Emma has fallen asleep in her lovely lilac outfit. With her blonde hair, beautiful wispy eyelashes, and flower buttons ...more
More Little Ones to Love Collection—Miniature Lifelike Emmy Doll
Here's Linda Webb's famous baby in a tiny, 10" size! This
collection
is the first-ever collection of So Truly Real® baby dolls in this miniature size. Each doll has all the delicate realism of real infants that you can cradle in your hands.
Tiny Miracles Emmy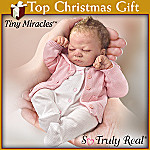 The first Tiny Miracles baby doll in a miniature 10" size, Baby Emmy arrives in a sweet traveling outfit—a white footed sleeper paired with a classic pink baby sweater....more
Tiny Miracles Celebration of Life Emmy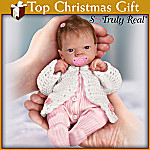 Here's little Baby Emmy celebrating her first birthday.

She wears a pink sleeper under a white sweater that's trimmed with tiny ribbon roses and arrives with a FREE pink pacifier...more
Tiny Miracles And Angels Danced Emmy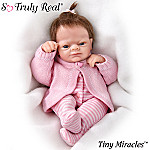 Here the tiny Emmy wears a cozy pink-and-white ensemble with tiny heart-shaped buttons and a pink bow ...more
Charlie, Anatomically Correct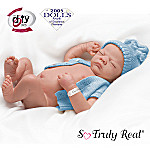 This sweet boy, dreaming away in his soft blue knitted outfit, is anatomically correct even down to his "outie" belly button! Nominated for both the Dolls Awards for Excellence and the DOTY Award, you won't want to miss this little newborn boy by Master Doll artist Linda Webb....more
Tiny Miracles Little Charlie Miniature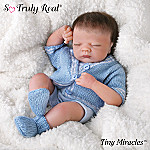 It's naptime for Charlie. Now, you can enjoy a snoozing bundle of boy in a collectible miniature baby boy doll created in an amazing 10-inch size! Linda Webb's realistic sculpt has been exactingly reproduced in a miniature baby boy doll that has Realtouch vinyl skin, a thick headful of brown hair, wispy eyelashes...more
Tiny Miracles Martha Viola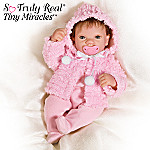 It's Martha Viola in a miniature 10" size.

This realistic vinyl baby doll wears a pink sleeper and matching hooded sweater with a white ribbon tie-on trimmed with pompons...more
Tiny Miracles Harriet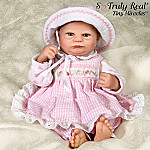 This adorable Tiny Miracles doll comes outfitted in a coordinating dress and pantaloons in pink-and-white gingham and a matching tie-on sun hat.

Expertly crafted of RealTouch baby-soft vinyl skin, this tiny lifelike baby doll has hand-rooted baby hair, delicate baby eyelashes and hand-painted fingernails and toenails...more