Lifelike Baby Dolls
These precious babies are more than just realistic-looking. Activiate the hidden mechanism to seem them breathe, wiggle, laugh, and cry.
There's nothing sweeter than a sleeping baby! This collection of exquisite "breathing" baby dolls is available exclusively from The Ashton-Drake Galleries.
Hush Little Baby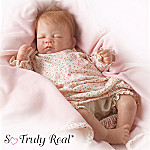 First in this series by acclaimed doll artist Waltraud Hanl exclusively for Ashton-Drake is Hush Little Baby. She's beautifully handcrafted, with soft RealTouch vinyl skin, hand-applied hair and lashes, even tiny fingernails and toenails. She arrives in a delicate, floral-print baby gown, matching cap, and a little diaper...more
So Truly Real Every Little Breath's a Blessing Collection
Each of the sweet baby dolls in this collection was created exclusively for The Ashton-Drake Galleries by Master Doll Artist Andrea Arcello.
All breathing baby dolls in this collection—Ashley, & Aria—will melt your heart with their sweet newborn features and their gentle breathing—so peaceful to watch, so wondrous to feel—tells you that they're truly content to be loved by you. Pick them up - they feel just like real babies in your arms! Truly, every breath is a little blessing, but don't wait! Strong demand is expected for these breathing baby dolls.
Breathing Baby Ashley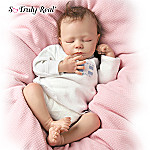 Newborn baby Ashley is the very FIRST So Truly Real(TM) collectible vinyl doll that "breathes." Created by master doll artist Andrea Arcello, tiny baby Ashley's gentle, peaceful breathing will coax "oohs" and "ahhs" wherever you show her off. Her body is loosely jointed too, so she feels just like a real newborn infant in your arms.
Strong demand is expected ...more
Breathing Baby Aria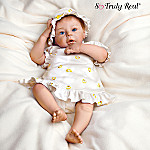 Aria is the third of the lifelike breathing triplets, sure to put a song in your heart! Like Ashley and Maggie, she has been expertly hand-crafted and mimicks the breathing of a real baby. Dressed in a white and yellow patterned sun dress with a matching ruffled hat and diaper, she's available exclusively from Ashton-Drake ...more
And Angels Danced—Warm to the Touch Doll
This realistic little baby is actually warm to the touch, thanks to a 'warming heart' heat pack. Now she can be a warm little bundle, snuggled contently ...more