African American Lifelike Dolls
These lifelike African American dolls are available exclusively from the Ashton Drake Galleries.
Breathing African American Dolls
This collection of breathing African American dolls is a first-ever from the Ashton-Drake Galleries. Purchase Tiffany, Marcus, and Whitney as a collection, and you'll be guarenteed the same price when new dolls are added...more
Jasmine by Waltraud Hanl
Baby Jasmine is the first So Truly Real African American doll. Created by master doll artist Waltraud Hanl, Jasmine is sure to captivate you with her beautiful lifelike features.
Jasmine Goes to Grandmas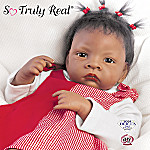 Dressed in an adorable red and white check jumper, baby Jasmine is all ready to go to Grandma's house. Winner of the Dolls Award of Excellence, this beautifully handcrafted Jasmine lifelike doll is designed to lie in your arms just like a real baby...more
Jasmine at age 1 1/2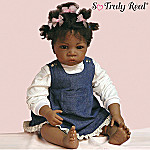 Look who's growing up! Baby Jasmine is 1 1/2, wearing a pullover and denim jumper. Her curly hair is colorful with a bright array of ribbons and scrunchies...more
Tiny Miracles Jasmine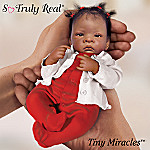 It's sweet baby Jasmine in a miniature size. Dressed in a cozy red footed sleeper and white baby sweater, she's the first So Truly Real collectible African-American baby girl doll to be created in an amazing 10-inch size...more
Tiny Miracles Destiny
With a meaningful name like Destiny, life holds exciting possibilities for this precious little girl! Measuring just 10" long, this Master Doll Artist Waltraud Hanl baby doll is just the right size to fit in the palm of your hand....more