Tiny Miracles Baby Dolls
These adorable dolls are only 10" long! They're called the Tiny Miracle baby dolls from the Ashton Drake Galleries. Small enough to fit in your hand but incredibly realistic, these dolls are part of the So Truly Real collection of baby dolls. Their likelike skin is Real Touch® vinyl for a realistic feel. Just hold a Tiny Miracles doll and you won't want to stop!
Tiny Miracles Hailey Needs a Hug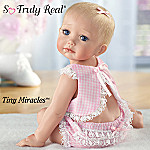 Hailey is the first So Truly Real Tiny Miracles doll to have a fully sculpted Real Touch vinyl body.

She's outfitted in a baby camisole top with pretty lace and is fully poseable...more
More Little Ones to Love Collection—Miniature Lifelike Emmy Doll
Here's Linda Webb's famous baby in a tiny, 10" size! This
collection
is the first-ever collection of So Truly Real® baby dolls in this miniature size. Each doll has all the delicate realism of real infants that you can cradle in your hands.
Tiny Miracles Emmy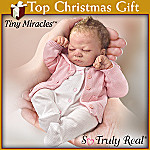 The first So Truly Real Tiny Miracles baby doll in a miniature 10" size, Baby Emmy arrives in a sweet traveling outfit—a white footed sleeper paired with a classic pink baby sweater...more
Tiny Miracles Celebration of Life Emmy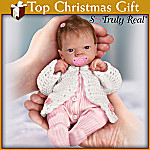 Here's little Baby Emmy celebrating her first birthday.

She wears a pink sleeper under a white sweater that's trimmed with tiny ribbon roses and arrives with a FREE pink pacifier...more
Ashlyn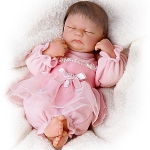 This beautiful sleeping baby has painted fingernails and toenails. She slumbers in a beautiful pink ensemble, and even wears a tiny diaper ...more
Emma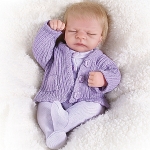 Emma has fallen asleep in her lovely lilac outfit. With her blonde hair, beautiful wispy eyelashes, and flower buttons ...more
10 Inch Emmy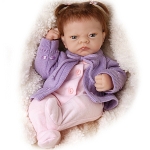 Linda Webb's darling Emmy is now in an adorable 10 inch size, dressed in a sweet pink footed sleeper and purple sweater ...more
Tiny Miracles And Angels Danced Emmy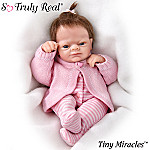 Here the tiny So Truly Real Emmy wears a cozy pink-and-white ensemble with tiny heart-shaped buttons and a pink bow ...more
Tiny Miracles Little Charlie Miniature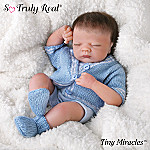 It's naptime for Charlie. Now, you can enjoy a snoozing bundle of boy in a collectible miniature baby boy doll created in an amazing 10-inch size! Linda Webb's realistic sculpt has been exactingly reproduced in a miniature baby boy doll that has Realtouch vinyl skin, a thick headful of brown hair, wispy eyelashes...more
Tiny Miracles Harriet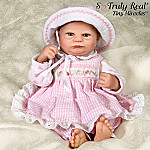 This adorable Tiny Miracles doll comes outfitted in a coordinating dress and pantaloons in pink-and-white gingham and a matching tie-on sun hat.

Expertly crafted of RealTouch baby-soft vinyl skin, this tiny lifelike baby doll has hand-rooted baby hair, delicate baby eyelashes and hand-painted fingernails and toenails...more