Tiny Miracles Emmy
Acclaimed doll artist Linda Webb brings us Emmy, each with a unique style all her own. Exclusively from the Ashton Drake Galleries, these lifelike Emmy baby dolls are yours to cherish.
Tiny Miracles Emmy Little Ones to Love Collection
These adorable 10" baby Emmy dolls are part of a collection. Purchase individually or as
a set
to be sure you never miss a little baby when she becomes available.
Tiny Miracles Emmy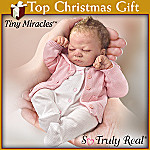 This precious sleeping newborn Emmy is the first So Truly Real baby girl doll in a truly amazing 10-inch size. Wearing a pink Christmas sweater,...more
Celebration of Life Emmy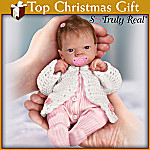 Emmy's eyes are open as she gazes at you in her adorable white sweater that's trimmed with tiny ribbon roses ...more
Tiny Miracles Emmy with Christmas Ensemble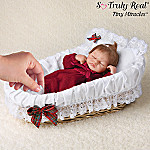 Holiday enchantment arrives in a delightfully small package! Here's Emmy all ready for the Christmas party with two charming holiday outfits. Also included is a wicker bassinet and padded white liner decorated with lace and Christmas plaid bows...more
Tiny Miracles And Angels Danced Emmy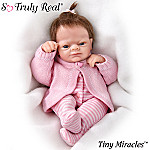 Here the tiny Emmy wears a cozy pink-and-white ensemble with tiny heart-shaped buttons and a pink bow ...more